Auto Color Clicker
This post hows how to create your own Auto Color Clicker with 2 Windows Automation Software Applications. The First Windows Automation Utility (Color Change Detector) lets you define the Color Change and the Second Application (Auto Mouse Clicker) lets you define what Mouse Clicks must be done when the Screen Color changes. Combination of these two utilities provides you an Advanced Auto Color Clicker which is totally configurable and still easy to configure. The Screenshots provided here guides you to the process of Color Clicker Creation and provides you complete Windows Automation.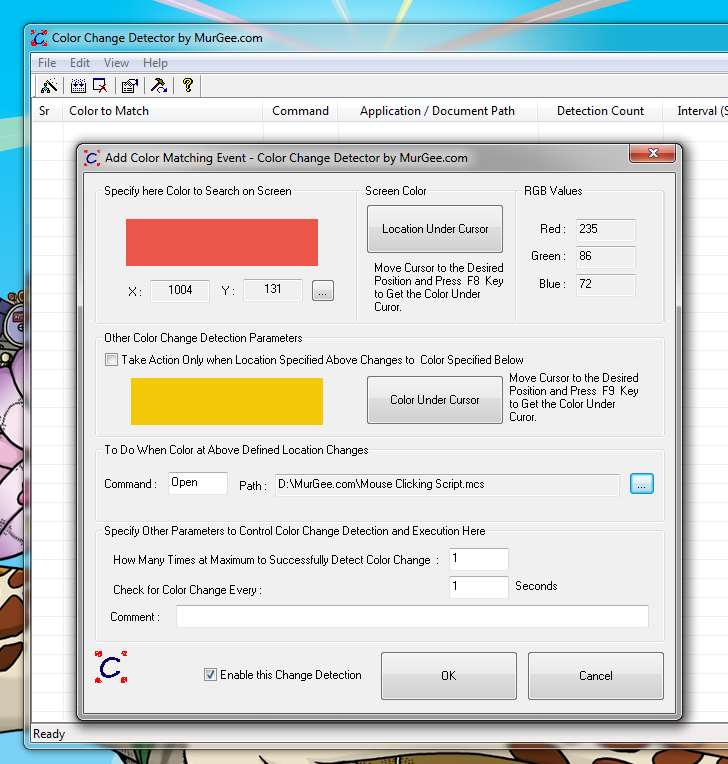 As displayed in the above Screenshot, the Color Matching has been defined to Monitor Screen Color Change at specific Screen Location (Identified by X and Y Co-Ordinates of Screen Resolution) and once the Color Matching is Complete, a Mouse Click Script (.mcs File) is executed. The .mcs File has been created using Auto Mouse Clicker and contains Multiple Mouse Clicks. You can also visit the Automate Repetitive Tasks page to learn how you can schedule the .mcs file to start Mouse Clicking at a Later Date / Time.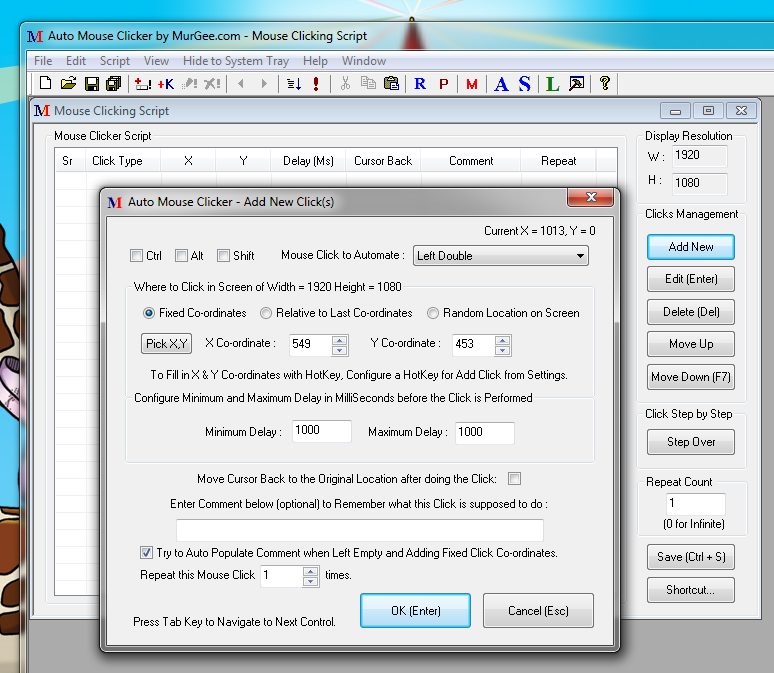 Separation of Color Matching and Mouse Clicking Script allows usage of Auto Color Clicker for Multiple Purposes. Whether you need to Watch Screen for Game Events, Alerts Created by a Software Application or anything else, this Auto Color Clicker gives you endless possibilities of Windows Automation where you can let your Windows Computer take care of itself providing you the complete Automation Solution. You can use this Auto Color Clicker as an Optical Sensor which monitors Screen Changes and when the Sensor fires an event, you can start another Application or interact with an existing software Application.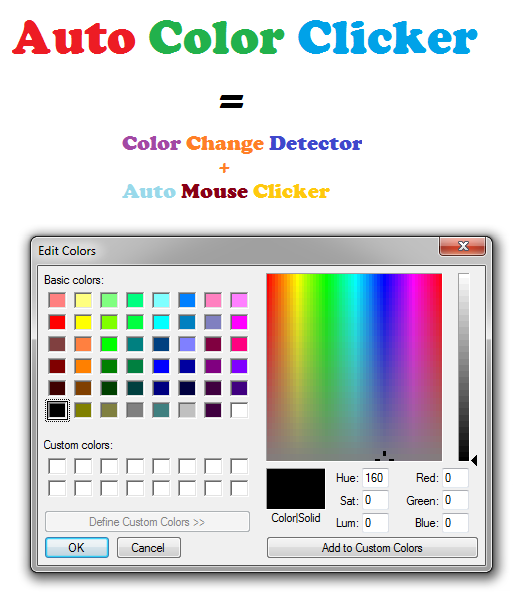 Download the Color Change Detector used in this Auto Color Clicker and visit the Auto Mouse Clicker page to download the software to create Mouse Macro Script. Both of the Software Applications are offered as shareware applications where you can download and try them for free on your Windows XP, Windows Vista, Windows 7, Windows 8 or on Windows 8.1 Computer. Once the trial usages of the software applications have been used and you are happy with the performance of the software applications, you can pay the registration fees and unlock the trial version to registered full version.
---
---