Auto Text Typer for OS X Macintosh
The Mac Application presented here allows you to save time and efforts in manually typing text sentences. This Application can be used on Macintosh OS X 10.6 and later versions of Apple's Macintosh OS X. Video Tutorial, Screenshot and Download link for the Auto Text Typer is presented below. The Main Window of the Auto Typer window is displayed below which allows you to store upto 5 text sentences along with separate keyboard shortcuts. As evident from the given below Screenshot, the text sentence can have any alphanumeric or special keyboard characters. Also note that you can use almost any Keyboard Shortcut along with the text sentence.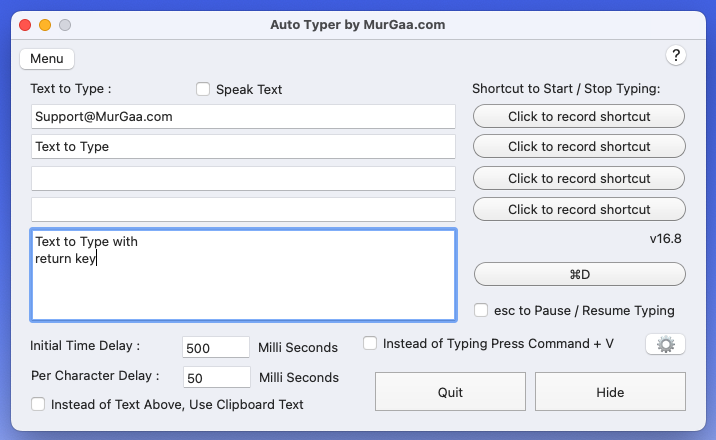 Download this Auto Text Typer on your Mac and let this Keyboard Automation Utility do the typing for you. Although the above screenshot has been captured on Mac OS X 10.9, you can use this Auto Text Typer Utility on lower versions of Mac OS X including 10.15, 10.14, etc upto to 10.7. You can also watch a Video Tutorial which displays how to configure and use this Auto Text Typer on Mac OS X. This Software is provided on a Free to try basis and the free trial version is only limited by the number of times it can be used. Once you have utilized the free trial usages of this Mac OS X Auto Typer, you can register your copy of the software and get licence key for only $5.00 ( + Taxes). This is a really simple and basic Text Automation Utility for Mac OS X which can help you remove typing mistakes and save you efforts from typing the same text sentence multiple times.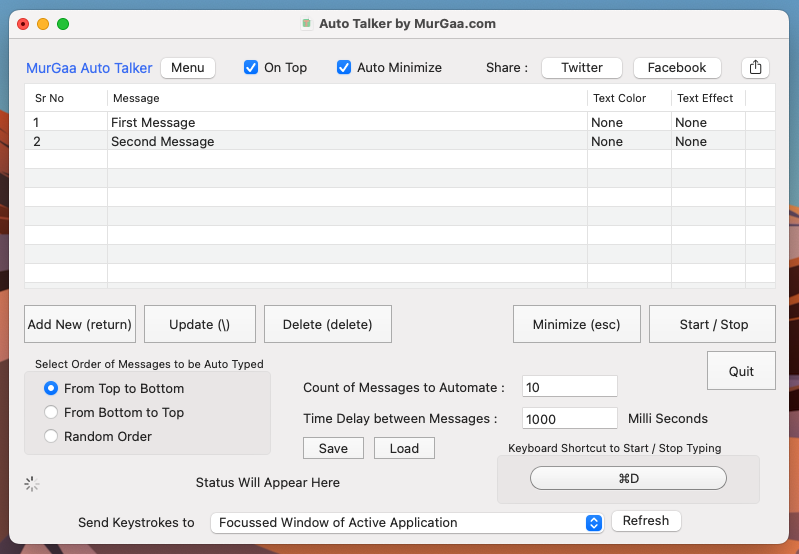 Download another Mac OS X Keyboard Automation Utility which is sort of extension to Auto Text Typer for Mac is presented above. Unlike Auto Text Typer, the Utility presented above lets you assign typing of multiple text sentences with a single keyboard shortcut. This Text Typer can do really fast typing when you have to type single or multiple text sentences in a timely and repeated manner. The Auto Text Typer for Mac is presented by MurGaa.com and requires a licence fees of $5.00 (+Taxes) after the free trial usages of the sofwtare have been utilized.
In case you have played Offline or any other Online Game, you will be able to fully understand the importance of typing same text multiple times. Note that there is configurable time delay available to pause the Text Typer between Text Sentences. Watch a Video Tutorial which shows how to add text sentences to this Text Automation Utility, Configure Time Delay between typing of each character or between typing of each sentence and then finally let this keyboard Automation Utility do the Automated Text Typing for as long as you want it to. Speed of Text Typing is fully configurable and is controlled by the Time Delay values assigned. Finally you can have a Super Fast Text Typer doing Automated Typing for you on your Mac or you can have a Slow Text Typer with fixed or Random Delay between each character typing.
Download Keyboard Recorder to record and playback complex Automated Text Typing on your Mac OS X. This Keyboard Recorder can be really handy when the Text Typing you wish to Automate consists of Mouse Actions, variable time delay or other actions which none of the above displayed Auto Text Typer Applications can handle.
Since the above Keyboard macro Recorder records and plays back the recorded actions, you would need to record text typing action one time and then you can play it any number of times. The Video Tutorial of the software displays how easy is to record and then play back Text Typing. In case you do have speakers connected to your Mac, you can also utilize the audible alert features of the software.
In case you would like to know more about the software, do visit the Keyboard Macro Recorder for Mac page and find out what's all missing from this short blog post. This general purpose Mac OS X Automation Utility can also be used as a Macro Scheduler for Mac by utilizing the Time Delay before starting playback feature. This Mac OS X Utility is distributed as a shareware application and requires you to pay $8.00 activation fees after utilizing the free trial usages of the software.
---
---