Fast Clicker
A Simple Auto Clicker which can do Mouse Clicks on a Windows PC really Fast is presented here. It is up to you how fast you want the Mouse Clicker to do the Clicking. When increasing the speed of the Auto Clicker, you must make sure that the Program on which you want to click fast can handle the fast clicks. The Mouse Clicking Tool presented here allows you to configure the speed on your own, so that when you want your Clicker to click fast you can increase it's Clicking Speed and when you want to reduce the speed of Clicking, you can reduce the Mouse Clicking Speed.
This Mouse Clicking Tool works for all Windows Operating Systems from Windows 7 to Windows 10. In case you are looking for a Mac Version of fast Clicker, please navigate to Fast Clicker for Mac page, and for Windows, just read on and let your Mouse Cursor Click Super Fast with various Applications presented here.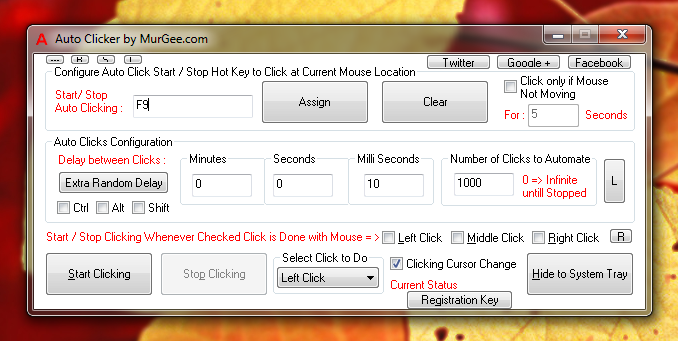 Download and Install this Mouse Clicking Application and Configure it as displayed in the screenshot above to make this MurGee Auto Clicker as really Fast Clicker. You do not need Administrator Rights to install this Mouse Clicking Application. Yes this Application has been tested with 47 Anti Viruses and is Completely Safe to download and Install. As the Application does not requires Admin access, it cannot change anything on your computer which will be applicable to all the user accounts on your Windows Computer.
The Visual Display Colors of the Application are configurable and are by default dependent on the your current Windows Theme. The Speed of Mouse Clicking is determined by the delay in between consecutive Mouse Cursor Clicks and in the screenshot above, the delay between multiple clicks is configured to be only 10 Milli Seconds. In case you would like to know more about the application presented above, do visit the Mouse Click at regular intervals post of this blog. Alternatively you can download the software for free from the link provided in the earlier paragraph and try it yourself on your Windows Computer without having Admin Access to your Windows Computer.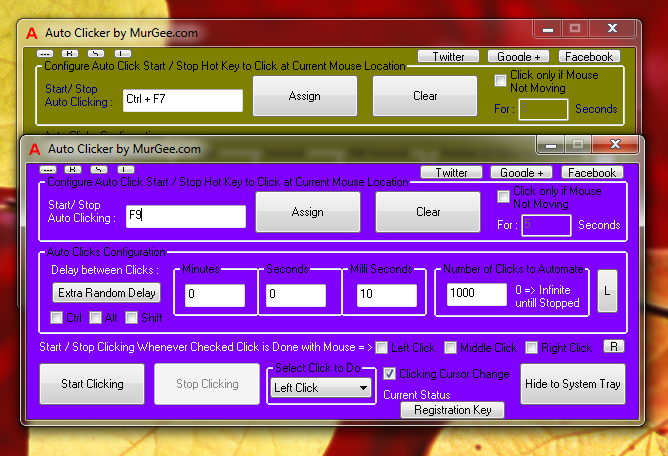 In case you would like this Mouse Clicker to Click at 2 different locations at the same time, you can launch the application tow times using the Desktop Shortcut or Shortcut in the Start Menu. In order to launch and configure two Screen Locations, you would need to Enable the Multiple Instances option and define two different fixed screen locations on your Windows Computer. You will also need to define two separate Keyboard Shortcut keys as displayed in the screenshot above. You can also assign different Clicking Speed of both Mouse Clickers by defining different delay interval between clicks. Remember Lower the Delay value, the Faster your Clicker will Click Mouse. To use this Application as Fast Clicker use the Milli Seconds field and assign 0 to Minute and Seconds field values.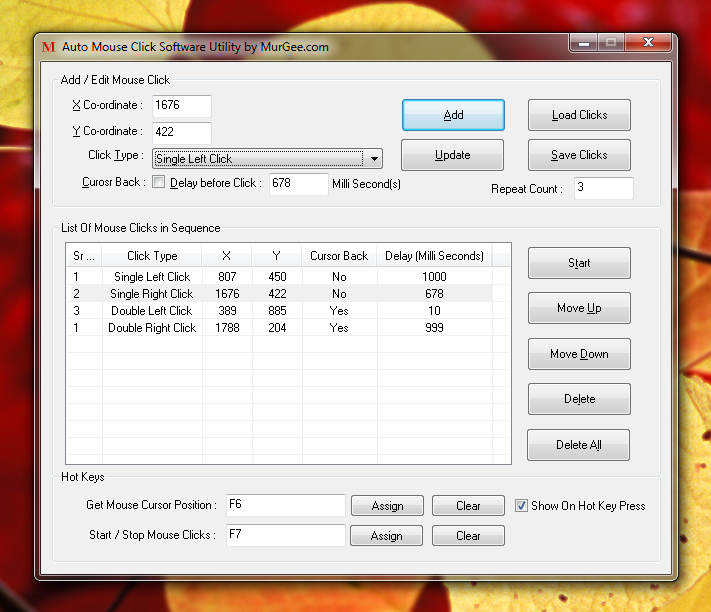 In order to do Multiple Clicks at Multiple Screen Locations in Sequence, you can use a different Mouse Clicker as displayed in the screenshot above. The Software displayed in the screenshot above is the simplest way to Auto Click at different Screen Locations easily and quickly. This one Screen Software is named as Auto Mouse Click and you can use it to do Left or Right Mouse Clicks in Single Click or Double Click method. Here also the same rule applies for the Mouse Clicking speed, i.e. Lower the value of delay, the faster the clicker will click. Here Milli Seconds is the only available time field to define the delay before Mouse Click and hence can be a real Fast Clicker for Multiple Screen Locations. This Mouse Click Scripting Application is also bundled as a Setup Application and does requires Admin Rights to install it.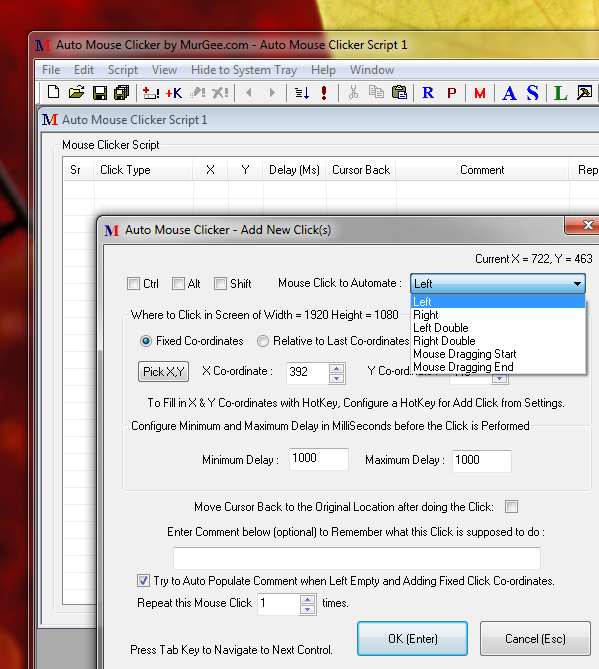 The Software Application presented in the above screenshot is another Fast Clicker provided under the title of Auto Mouse Clicker which may seem like it is only for Advanced Windows Users, However it is equally easy to understand and learn. As with all the applications presented here in this post, you can use this Application to be your Super Fast Clicker for Single or Multiple Screen Points or Locations. This Advanced Fast Mouse Clicker has lots of features and has lots of screens in it. Some screenshots are posted in the Advanced Auto Clicker post of this blog. You can use this Advanced Auto Mouse Clicker as a Fast Clicker with fixed speed or use it as a Fast Clicker with variable speed using the Random Delay option in the software. Admin Rights are required to install this Application on your Windows Computer.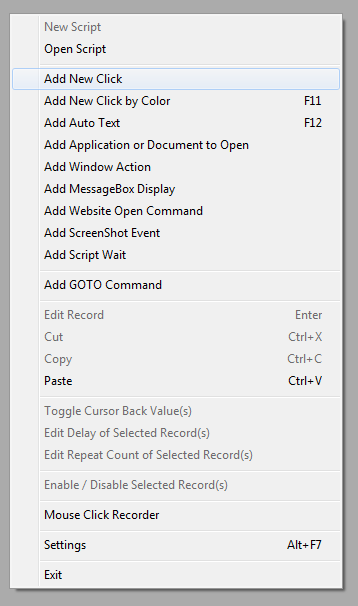 When using any of the above applications as Fast Clicker, all you need to do is specify minimum possible delay in between clicks. 1000 Milli Seconds together make 1 Second and 60 Seconds together make 1 Minute. Before using any of the Application for Actual Purpose like Clicking in Game, Regression Testing or any other purpose, do make sure that you do understand the features of the Application.
When learning any of the Application above, test the features of the application on some basic Windows Application like Calculator or you can even use the Click Counter Software to count how many clicks the application is doing while being used as Fast Clicker. All the applications are shareware applications which means that, you can download any of the application for Free on your Windows Computer, Install it and test it as per your requirements.
---
---