Record and Replay Mouse Clicks on Mac
A simple and easy to use Macro Recorder for Mac is presented in this post which allows you to record and reply mouse clicks on Mac running 10.7 or later versions. With Macro Recorder for Mac, the Mouse Clicks can be recorded by pressing a Keyboard Shortcut and the recording can be stopped with the same keyboard shortcut which was used to start mouse clicks recording on Apple Macintosh.
Once you have recorded Mouse Clicks, you can press another Keyboard Shortcut to replay the recorded Mouse clicks. In case you would like to replay the Mouse Clicks multiple times, just specify the number of times, you want the recorded mouse clicks to to be replayed. When the Playback of the recorded Mouse Clicks is in progress, you can press the keyboard shortcut used to play the recording and stop the playback.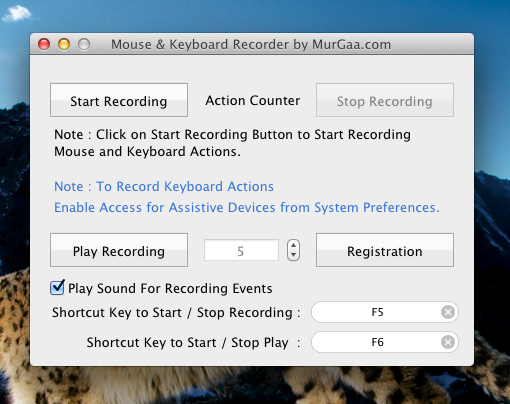 Download and try out this Macro Recorded for Mac OS X on your Apple Macintosh running 10.7 or later version. Whether you are using Apple's Mac Mini or a Laptop powered by Mac OS X operating System running 10.7 or later version like Macintosh Mountain Lion, Mac OS X Lion or even 10.9, you can use the Macro Recorder for Mac and easily and quickly record and playback the recorded Mouse Clicks.
As displayed in the above screenshot, the Macro Recorded is configured to play the recorded Mouse Clicks 5 times on the press of function key F6. Note that another Function Key F5 has been configured to Start / Stop Recording. Also note that there is a configurable option to enable or disable sound alerts to help you identify actions performed with Keyboard Shortcuts. There are different Audible alerts pre-configured for different actions including Start Recording, Stop Recording, Play Recording and Stop Playing of Recording.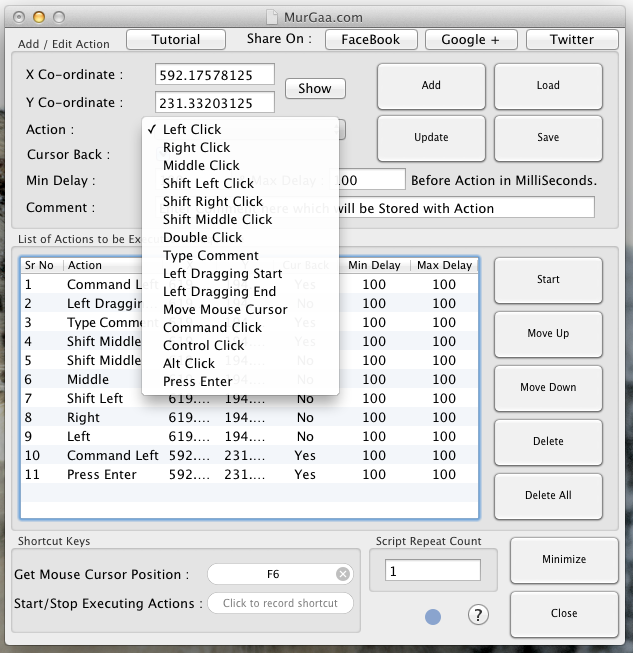 Where Macro Recorder for Mac provides you simplicity and complete Mac OS X Automation, you can also consider another related Mac OS X Automation Software titles Mac Auto Mouse Click which gives you the option to save Mouse Clicks, Key Press and other Actions. Yes with Macro Recorder for Mac, you can also record Keyboard Actions and Keyboard Assisted Mouse Clicks like Command + Click, Alt + Click, etc, however the software presented above gives you the capability to edit the Mouse Clicks recorded in the script.
The above displayed Mac OS X utilities are basically Mac OS X Automation Tools which together help you automate repetitive tasks. When the Tasks are performed by Automation Tools as displayed above, you get Accuracy with repetitive task. The Macro Recorder for Macintosh automatically records the time delay between recorded Mouse Clicks so you can easily add time delay to your recorded Macro. In case you are using the second software presented above, you can add time delay to Macro Scripts by entering time delay in milli seconds and control the execution /playback of recorded macro or script with keyboard shortcut.
---
---